2 vs 2 all arthur high setts koth
Map...
LBC something... map i wanted to try.. pretty interesting map
it's 2nd third or 4th from the top of your koth maps lol xD
Anyhow. All of us do our eco's i got prome against me. Just me has domino.
Game starts out and i put all troops straight up (it was hilly near the centre) And i put my troops on the hilly centre. While i sent my merlin towards Domino to do some damage there.. Prome didn't see so merlin could use his special and kill abit more.
Meanwhile prome build up forces and charged in the top centre that i had. He pretty much killed all of my troops with his melrin specail... and then went back with his merlin. So that semi sucked for me. I make troops again and push him of the top.. while his merlin stays back. I make merlin, he kills merlin. I made 3 more merlins... he killed 3 more merlins. Meanwhile he had pushed his second merlin special on my groups (i had pretty big groups..) bout 80 x bow and 20 archers or so.
He try's to attack my block, but my block wins and pushes on.
I look at just me's troops and he was doing awesome. Kronnick says well prome is not so good now... And at that poit i finally realised i was fighting prome lol.
Anyhow at this time we had 8 min and they 5 min. While our troops were mostly covering all. Just me had to go but stayed in game...
So i needed to keep them both of the centre for 2 min.
Didn't thought it worked, but shut down eco completely, made 120 maces and used merlin and perci and anything i had left to keep the centre...
And we won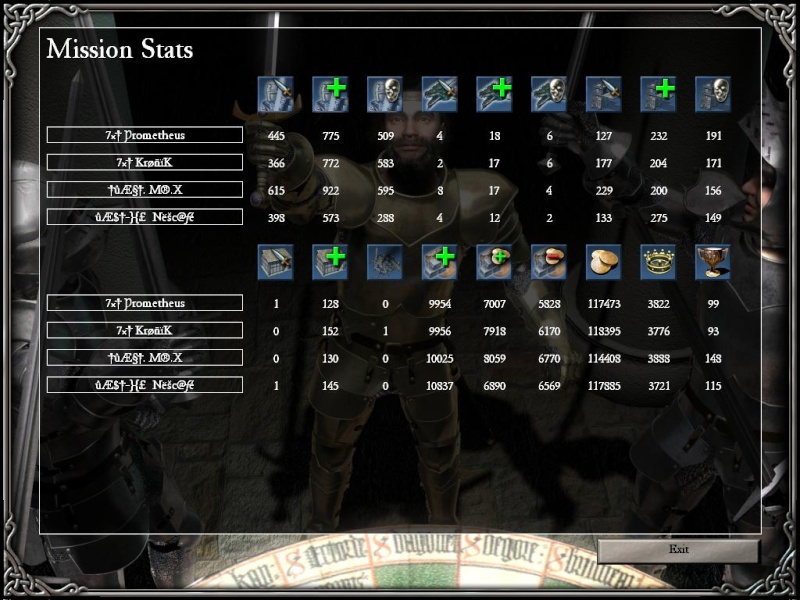 Great game guys. We went pretty much head on.